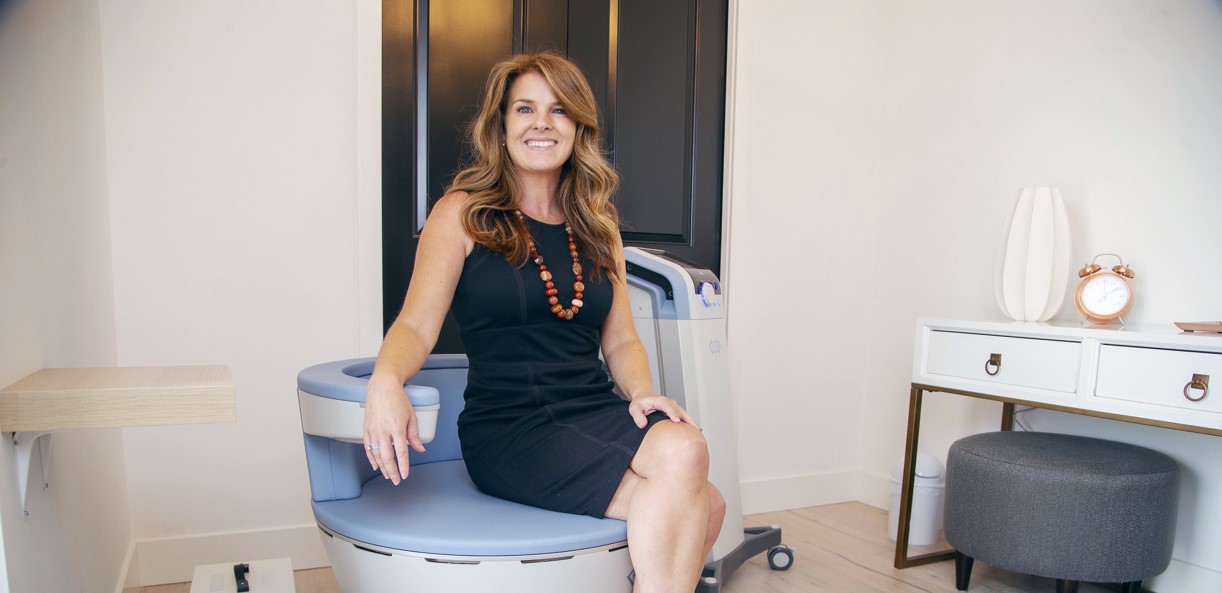 At UROSPOT we solve a problem that impacts 2/3 of women over 35 and many men as well. Those pesky bladder leaks and urge issues.  These issues are so common but that doesn't make them normal.  UROSPOT uses innovative technology approved by Health Canada and the FDA to solve these problems like never before.  The technology is called High Intensity Focused Electromagnetic Energy (HIFEM) delivered in a medical device known as Emsella.  Emsella also goes by the nickname "The Kegel Throne".
The Emsella at UROSPOT is an elegantly simple and dignified treatment for bladder leaks, urgency and night waking to pee.  Emsella resembles a futuristic looking chair.  At UROSPOT you sit comfortably on the Kegel Throne and remain fully clothed (a refreshing change for women healthcare appointment).  The HIFEM moves through the chair, through your clothes and focuses completely on your pelvic floor musculature.  During treatment the energy engages the pelvic floor muscles and forces them to contract or kegel over 11,000 times in just 28 minutes.  Hence the name "Kegel Throne".
UROSPOT has emerged as the leading provider of treatment with Emsella in North America.  At UROSPOT we are experts in the Emsella treatment.  Some medical spas that offer skin treatment and lasers occasionally also offer Emsella.  In these locations it is one of many offerings.  You've heard the saying "jack of all trades, master of none".   At UROSPOT we are only a urology focused clinic.  We pride ourselves on our total dedication to understanding the Emsella treatment better than any other provider.  We provide education throughout your course of therapy to ensure you are not simply strengthening your pelvic floor, but also gaining a greater understanding of this important part of your body.
At UROSPOT we work closely with OBGYNs, Urologist and other healthcare professionals to share developments with the Emsella and work together on directions for further research.  UROSPOT also actively supports various prostate cancer support groups and pelvic organ prolapse support communities.
The Emsella has provided life changing benefits for clients at UROSPOT.  Many clients report feeling "like I've regained 20 years of my life".  Clients regain the ability to exercise without leaks, to stop mapping out where the nearest washroom is when they leave the house, to laugh, cough and sneeze without leaks, and to sleep through the night.  We also treat women with prolapse.  At UROSPOT we are experts at using the Emsella to help clients with pelvic organ prolapse.  We also have great experience helping men with incontinence and sexual dysfunction.  Especially men who have had a prostatectomy for prostate cancer.  We have refined our approach to ensure these men experience a significant quality of life improvement.
At UROSPOT we also work with clients with endometriosis, bowel or fecal incontinence and irritable bowel syndrome.
The name UROSPOT stands for urology spot.  It is our total focus.  We offer the best treatment possible and pride ourselves on being the experts on the Emsella technology.  We encourage you to take advantage of our complimentary consultation to experience the difference at UROSPOT.  Our expertise and education are here to help you experience freedom.